George RICKEY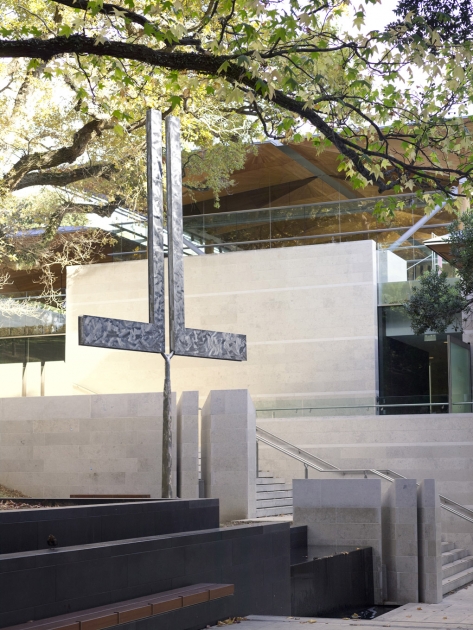 Double L Excentric Gyratory 1985
Stainless steel
7163 x 3543 mm
Edition of 3. Engraved on base Rickey 1/3, 1985
International Art Collection, Auckland Art Gallery. Gifted by the Edmiston Trust.
On July 5, 1984 George Rickey wrote in a letter, to the then Auckland Art Gallery Director, Dr Rodney Wilson, I am happy that you select Double L Gyratory as the appropriate sculpture for your site. I heartily approve. I have studied the drawings that you sent and feel that it is appropriate in size and will harmonize with the surroundings.
The new acquisition was featured in the 1985 exhibition Chance and Change: A Century of the Avant-Garde.
When speaking about his kinetic works Rickey said The visible movement is the design.
Set amongst trees the vanes of Rickey's work move gently whether there is a slight breeze or strong gust of wind. With his engineering background, gathered from his engineer father and then with engineers in an Army Air Corps machine shop during World War II, Rickey was able to develop the skills to combine precision engineering with aesthetics.
George RICKEY
1907-2002
George Rickey was born 6 June 1907 in South Bend, Indiana, USA. In 1913 his family moved to Scotland where his father was an engineer for the Singer Sewing Machine Company. Rickey studied modern history at Oxford, and took courses in painting and drawing at the Ruskin School of Drawing and Fine Art. He then studied in Paris at the Académie Lhote and at the Académie Moderne.
After teaching history in Massachusetts, Rickey devoted himself to painting full time, holding his first solo exhibition at the Caz-Delbo Gallery, New York in 1933. A year later he moved to New York.
In World War II he served in the Army Air Corps where he was assigned to work with engineers in a machine shop to improve aircraft weaponry. After the war, he resumed his teaching career and in the late 1940s spent a year studying Bauhaus teaching methods at the Chicago Institute of Design.
In 1949 he made his first kinetic sculpture whilst working as an associate professor at Indiana University. His early works showed his interest in early 20th century Russian Constructivism and combined geometric form and engineering. In 1967 he published his book Constructivism: Origins and Evolution.
He moved to East Chatham, New York in 1960. After five years teaching at Rensselaer Polytechnic Institute he retired in 1966 but continued to make sculpture.

He died aged 95.
Rickey's work is featured in major public and private collections throughout the world.
Reference: Ken Johnson George Rickey, Sculptor Whose Works Moved, Dies at 95 New York Times, 21 July 2002.