Chiara CORBELLETTO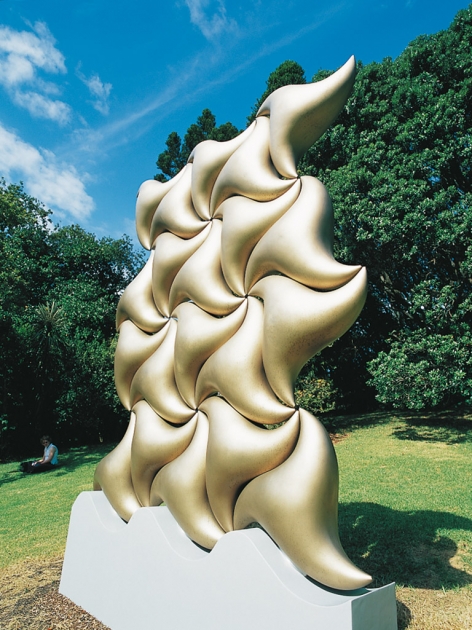 Numbers are the Language of Nature 2005
Chiara Corbelletto is interested in geometry and the underlying patterns scientists have discovered in nature.
She has taken the concept of tessellation, the name given to a pattern created by repeating a shape over a surface, into a three dimensional form made up of twenty identical bronze modules. She describes her module as a windswept triangle in a six-fold symmetry.
To achieve the high level of accuracy required Corbelletto worked closely with an engineer to have the mold for her modules developed using CAD software and CNC modeling.
The result is a sculpture that combines both harmony and strength.
Part of a project initiated by Outdoor Sculpture 2001 Incorporated to mark the new millennium with a sculpture walk in the Auckland Domain. Special thanks to Dominion Constructors Ltd for their support of this sculpture.
Gil Hanly photograph courtesy of Urbis magazine.
Chiara CORBELLETTO
b. 1956
Born in Italy, Chiara Corbelletto graduated from Modigliani Art School, Novara, in 1973 and gained a Bachelor of Architecture from the University of Milan, 1979. In 1981 she left Italy for New Zealand.
An established artist she has exhibited in Italy and New Zealand in both solo and group exhibitions. She has also worked on several projects where art is integrated into architecture.
Corbelletto has worked on a number of public commissions including: Binary Massey, University, Palmerston North (2014); Rosette & Rondelle, Te Atatu Library and Community Center, Auckland (2014); Numbers are the Language of Nature, Auckland Domain (2005); and Twins, University of Auckland (2003).
Her Domain sculpture, Numbers are the Language of Nature, was featured in Chris van Uffelen's 500 x Art in Public - Masterpieces from the Ancient World to the Present, published by Braun Publishing, Germany, 2011.
In the same year An Ocean of Silence, a ten-year retrospective opened at the Suter Art Gallery Te Aratoi O Whakatu, Nelson.
Her work is held in significant public, corporate and private collections including Te Papa Tongarewa Museum, Waikato Museum, The Suter Te Aratoi O Whakatu, The Dowse, James Wallace Arts Trust, Westpac Trust, PwC and the National Bank.