Anish KAPOOR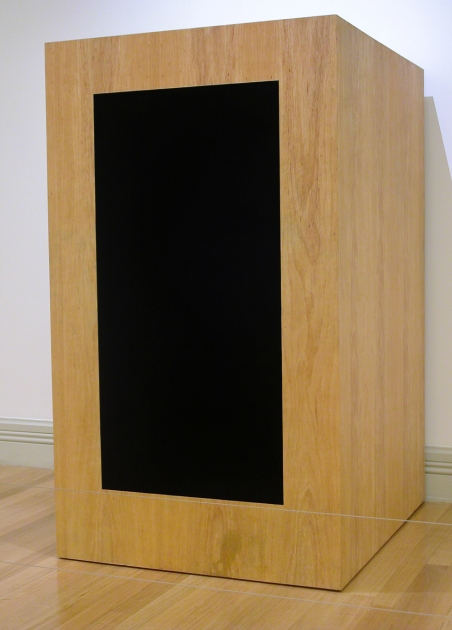 Untitled 1992
Wood, fiberglass and pigment
2085 x 1190 x 1430 mm
International Art Collection, Auckland Art Gallery. Gifted by the Edmiston Trust.
Anish Kapoor's work straddles two very different cultures with rich histories - Indian and English.
Kapoor's early sculptures from the1970s and early 1980s are strongly biomorphic in shape. …
Form, however, was mitigated by the intensity of pure powder pigment with which he covered these structures. Later they were enclosed within an interior encased by a protective utilitarian wooden container as found in Untitled, 1992.
Drawn towards (its) velvety black interior, one at first perceives the space to be completely empty. As one's eyes adjust to the faintly illuminated interior one detects the true colour of the void - a resonating sublime blue symbolic of transcendence and the absolute. Gradually we become aware of an ever so subtle modulation to this vertiginous blue which draws us closer and closer. Gradually the void responds to our attentions, swelling and pressing forward to meet us, then filling the void with its presence.
Reference: Text ex Lisson Gallery, London.
Anish KAPOOR
b. 1954
Born in India, Anish Kapoor moved to England in 1972 and studied at the Hornsey College of Art then at the Chelsea School of Art in London.
In the early 1980s, Kapoor emerged as one of a number of British sculptors gaining international recognition for their work. In 1990 he represented Britain at the XLIV Venice Biennale, and in 1991 won the Turner Prize. In 1997 he was awarded an Honorary Doctorate at the London Institute and in 2001 he was awarded an Honorary Fellowship at Royal Institute of British Architecture. He received a CBE in 2003 and a Knighthood in 2013 for services to visual arts.
His work has been exhibited in leading galleries and museums, including Kunsthalle Basel, Basel; the Tate Gallery and The Hayward Gallery, London; Reina Sofia, Madrid; Haus der Kunst, Munich; the Whitechapel Art Gallery and The Royal Academy, London, and at the Centre Georges Pompidou in Paris.
Recent major solo exhibitions include: Museo Universitario Arte Contemporáneo (MUAC), Mexico City, Mexico (2016); Couvent de la Tourette, Eveux, France (2015); Château de Versailles, France (2015) and The Jewish Museum and Tolerance Center, Moscow, Russia (2015).
His large scale public projects include Cloud Gate (2004), Millennium Park, Chicago, USA and ArcelorMittal Orbit (2012), Queen Elizabeth Olympic Park, London, UK.