William James FORSTER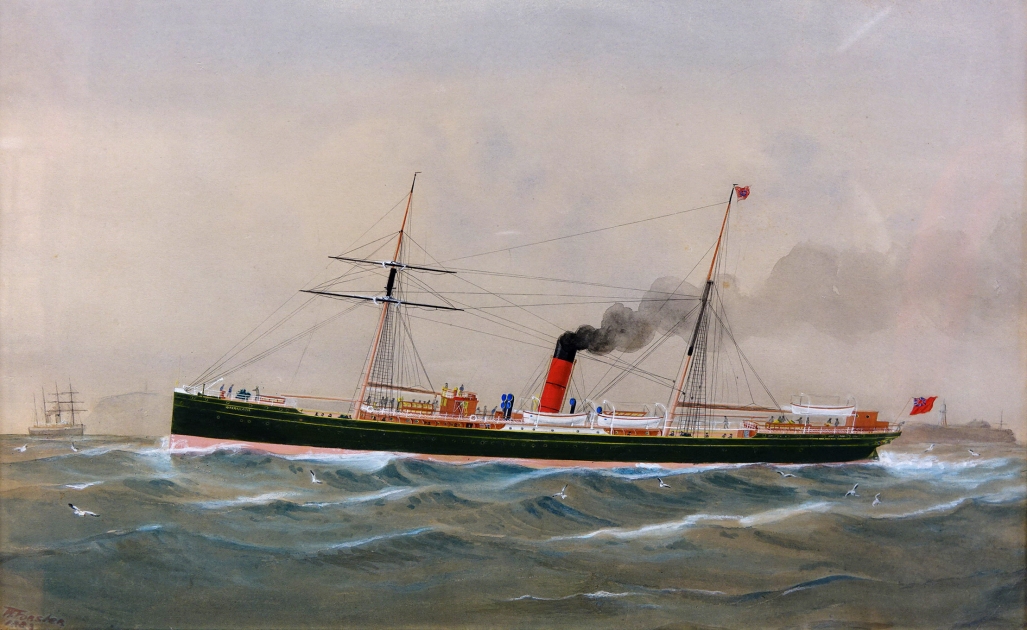 WAIRARAPA - Steel Steamship - Off Hornby Light, Sydney Heads 1883
Watercolour, highlighted with gouache
310 x 495 mm
Signed and dated
Edmiston Trust Collection, New Zealand Maritime Museum.
The WAIRARAPA is depicted sailing just outside Sydney harbour on one of her many successful journeys between New Zealand and Australia.
WAIRARAPA, built in Dumbarton, Scotland, 1882, was owned by the Union Steamship Company of New Zealand Ltd and was registered at Dunedin, New Zealand. Her specifications were 1786 tons, L.O.A. 285'2" x Breadth 36'3" x Depth 23'7".
Recorded as the third greatest loss of life in New Zealand waters, the WAIRARAPA was wrecked on Great Barrier Island, New Zealand on the 28 October 1894. She was on route from Sydney to Auckland, when the ship ran onto rocks in heavy seas and thick fog. Lifeboats and rafts were launched, but many of the people onboard were swept off the decks by the waves. The next morning a steward swam a line to shore and passengers were hauled through the water. Survivors huddled on the rocks for over 30 hours before being rescued. 101 of the 186 passengers and 20 of the crew of 65 died.
William James FORSTER
1851-1891
William Forster was born in Newcastle-on-Tyne, England.
Although little is known of Forster he was recorded in directories and electoral rolls in New Zealand. Married with two daughters, one born in New Zealand and one in Sydney, Australia, suggesting he spent time in both countries.
His paintings are dated through 1870s-80s with over 80 marine paintings known to be in both private and public collections.
He died in Sydney, Australia.